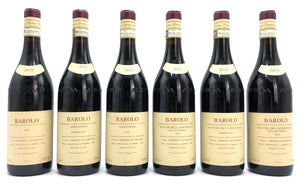 Selected by ITALIANNA
ACCOMASSO BAROLO VERTICAL FROM 2010
Regular price
€0,00
€0,00
Unit price
per
Tax included.
Shipping
calculated at checkout.
1 BAROLO 2010
1 BAROLO ANNUNZIATA 2011
1 BAROLO ANNUNZIATA 2012
1 BAROLO VIGNA ROCCHETTE 2012
1 BAROLO ROCCHE DELL'ANNUNZIATA RISERVA 2013
1 BAROLO VIGNA RICCHETTE 2014
TAXES INCLUDED
"Il Caveliere" The knight, Lorenzo Accomasso is a living legend who represents one of the few old school producers left. His experience is unparalleled with his first labeled vintage being 1958. When you visit his winery, it is like stepping back in time. Only his sister Elena helped him with the sales until she passed away in 2016. Now it is just Lorenzo himself who takes care of the winery at 86 years old!
In order to get these wines, you have to go by at least 3 to 4 times, and sit down and have a conversation for hours on end in Piemontese Dialect to then find out you must come back even for 1 bottle. It took us years to build our collection and now we are happy to share it with you. His current release is 2014 while others are out with the 2016. He is in no rush and lets the wines refine slowly in barrels until he believes they are ready!
---
Share this Product
---